As CBD gains in popularity, we are being bombarded with phrases like "broad spectrum", "full spectrum", and "isolate" – yet many are finding it hard to decipher the differences. We're here to help you navigate through the different types of CBD.
What is Full Spectrum CBD?
Full spectrum CBD (also known as "whole plant") is the most commonly used form of cannabis for medical purposes. It is oil that has been derived from the cannabis plant, along with hundreds of other compounds, essential oils, terpenes, and cannabinoids (including a small amount of THC, less than 3% when derived from industrial hemp). 
The full spectrum of each naturally – occurring element extracted from the plant work together synergistically to create the 'Entourage Effect' , which means each element magnifies the therapeutic benefits of each individual cannabinoid  – to create perfect harmony within the body. 
What is CBD Isolate?
CBD isolate is CBD in its purest form – where all other plant matter, plant compounds, cannabinoids, terpenes,flavonoids, THC, and more have been removed. CBD is extracted from hemp due to its naturally low amount of thc, with everything else removed. What is left is a 99+% pure isolated CBD powder, with 0% thc.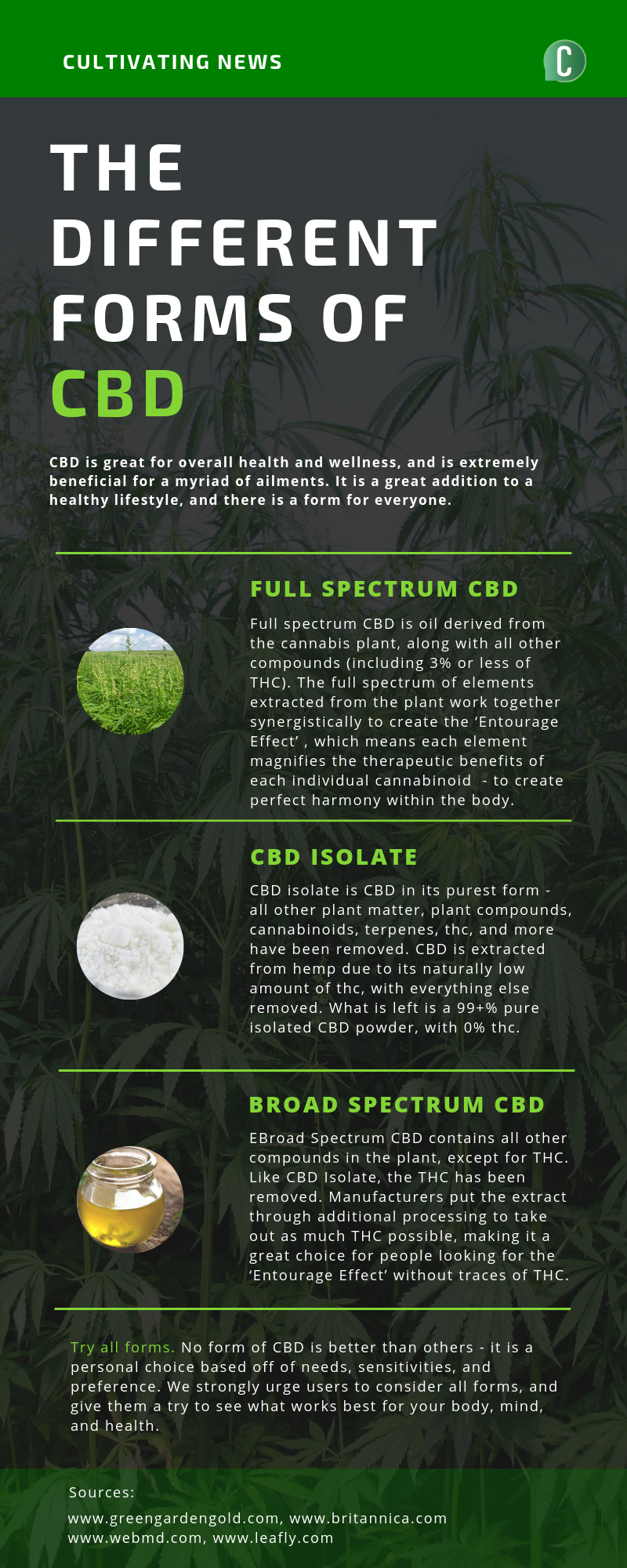 What is Broad Spectrum CBD? 
Broad Spectrum CBD is the best of both worlds. Like full spectrum, it contains all other compounds in the plant, except for THC. Like CBD Isolate, the THC has been removed. Manufacturers will put the extract through additional processing to take out as much trace amounts of THC possible, making this a great choice for people looking for the 'Entourage Effect' without any possibility of traces of THC. 
Full Spectrum CBD versus Broad Spectrum CBD versus CBD Isolate – Which One Should I choose?
Each form of CBD has its place in the world, and no form is necessarily better than the others. It is a matter of personal choice, preference, and needs. 
CBD Isolate
CBD Isolate is the purest form of CBD. This is best for those who have susceptibilities to other compounds, and want to avoid any trace amounts of THC. This is a great choice for someone who doesn't like the taste of CBD, as it is flavorless and odorless. While it will not deliver the enhanced benefits of the entire plant, it does not run the risk of having trace amounts of THC – making it best for those with plant allergies, frequent drug testing, or sensitivities. CBD isolate is also a good choice for someone recommended to take specifically high doses of CBD. First time users may want to start with CBD isolate if there is any hesitation about other cannabinoids. 
Full Spectrum CBD
 Full Spectrum CBD is extracted from the hemp plant along with all other naturally occurring compounds and cannabinoids. This form of CBD offers the full benefits of the 'Entourage Effect', and undergoes fewer processes than any other form. While it contains trace amounts of THC (less than 3%), it may cause complications in states that have very strict laws regarding THC. It may also have a strong natural flavor and odor and is best for those well versed in taking CBD, or for those that do not mind the earthiness of the flavor. Full Spectrum is great for users looking to get all of the benefits cannabis has to offer, and for users with severe conditions that isolate or broad spectrum may not be able to alleviate. 
Broad Spectrum CBD
 Broad Spectrum CBD is extracted from the hemp plant along with all other naturally occurring compounds and cannabinoids – except THC. This form of CBD offers the full benefits of the 'Entourage Effect', but it is less widely available than the other forms, and there is less research for Broad Spectrum CBD. It may have a strong odor or flavor. This form is great for first- time users that are looking for the full benefits of the plant, but may be nervous about THC. 
In Conclusion
To reiterate, no one form of CBD is better than others – it is a personal choice based off of needs, sensitivities, and preference. I strongly urge users to consider all forms, and give them a try. Looking for a high dose, with low flavor? Try isolate. Looking for the full entourage effect? Full spectrum may be for you! Looking for the entourage effect, but nervous about THC? Broad spectrum should do the trick!
This is just a starting point, but as research emerges and these forms become more widely available, we are looking to the horizon of a better future for health and wellness, with the help of many forms of CBD and other cannabinoids.